Cross posted from the blog
:
[Abstract: This is a really long post about the value of criticism. The point I'm getting at is that a) new authors should be open to it, and b) let's focus on writing really great books and less on what the Internet says. (This second point is somewhat obscure in the short treatise below, but it's good life advice—go write the book you want to write, not the book you think you should be writing. I think that's where real genius lies.)]
One of my favorite books of all time is William Faulkner's The Sound and the Fury. I read it as a naive 17-year-old the first time and was captivated by it—the narrative voices of the characters especially. Then maybe five or six years later, I found the Norton Critical Edition for a couple of bucks at a used bookstore, so during a particularly boring temp job, I sat at my desk and read it again. (This was an example of the worst kind of nepotism; my dad got me a job at his company, but no one would train me or give me Internet access since I was only temping until they could hire someone more permanently, so I spent all day sitting at my desk reading books and occasionally answering the phone. For this I was paid $12/hour.) If you've never owned a Norton Critical Edition, they're the fatter versions of classic novels, roughly half original text and half essays and historical documents giving the novel context. (I own a lot of these, thanks to my English degree.) There's a letter in the back of The Sound and the Fury written by Faulkner in which he explains that he thinks the book is an inferior work, maybe his worst novel. This still astonishes me, because I think the opposite is true, and I've read enough Faulkner to judge.
I've been at this writing thing long enough to know that it's hard to get perspective.
I took two creative writing classes in college. In the first, everyone was super nice, apparently afraid to every say anything too critical. In the second, there was a tremendous amount of talent, but each workshop became an exercise in how to tear each other down, and I often walked away feeling like I'd been punched in the stomach. When I founded my own writers group many years later, my thought was that the most effective strategy would be something in the middle: definitely critical, because one can't improve without criticism, but not mean.
I co-founded the group before I was published, before I was writing gay romance even, so probably 2006-ish. That it is still going is tremendous, although I attend less frequently than I once did. It's been interesting to watch over the years. We've had success stories. We have members who don't write much but attend regularly. We've had members who have quit the group after the first time their work was critiqued because they couldn't handle it. We've had periods when the tone of the group did steer too much toward mean. (To be clear, by "mean," I'm talking, "you're stupid" not "this doesn't work for me.")
In addition to the writers group, I've got a small team of beta readers who rip my writing apart before I submit it to publication. I'm generally of the mind that a story should be as close to perfect as I can get it when I send it to the publisher. (My agent, in fact, encouraged me to keep using those beta readers to vet stuff before I send it to her.) The beta readers I use regularly are people I've known for years and trust and value their opinions, and they're also people who are willing to say, "Ooh, girl, no" when I've done something that doesn't work.
Here's the thing with getting criticism: I think you do need to put some distance between yourself and your writing. A novel I've written is a product, and though a lot of my blood, sweat, and tears went into it, it's not me and it's not my baby. And probably once a year, one of my regular critique partners gives me a "kill your darlings" speech along the lines of, "I get that you love this part of the book, but no." That's hard to hear sometimes. It's hard to hear that a character you love is unlikable, that a plot point you put a lot of thought into is implausible, that your writing falls flat in one section of the book or is too purple in another. But you'll never improve if you don't hear that, and you can't fix a book's flaws if no one points them out to you.
So criticism is absolutely crucial to the writing process. Actually, in the elementary school writing manual I edited at work a couple of years ago, there's a whole section on peer review and how to do it effectively. (Again, not "you're stupid" but "I don't understand why this character acted this way.") So that's a fundamental.
(I think also sorting through criticism and deciding what's valid and what you're not willing to change is an art form that is incredibly hard to master. It's good to listen to criticism and change what needs changing, but you can't make every change or it's not your book anymore.)
I will confess: yes, I do read reviews sometimes. I never comment, but I do read them. (Not all, and not when my self-esteem is fragile, but if I run into one, I'll usually at least skim it.) Reviewers have said things that are so contrary to what I thought I was doing in a book that it highlights both that I have no perspective—perhaps what is on the page does not reflect my intentions—and that reading is highly subjective.
Sometimes I let it go, sometimes the criticism sticks with me. Readers seem less enamored with my more neurotic characters, for instance. (Examples: Seth in Kindling Fire with Snow, Jake in Four Corners, Dan in Show and Tell.) I always thought Adam in Four Corners was a harder character to like, but reviews have complained about Jake. One of my regular betas thought Show and Tell was among my best books, and I agreed, but reviews were more luke warm. Actually, one of my favorite negative reviews was of Save the Date; the reviewer found the whole premise unbelievable. I read it and then yelled, "IT HAPPENED TO ME!" at my computer. Sometimes you have to get that out of your system.
Here's the thing with reviews, though. I've heard some authors say that they learn from them. I don't know if I agree that's the right approach. For one thing, reviewers are not betas and shouldn't be treated that way. For another, once the book is out there, it can't be changed. Critical reviews often respond to book-specific issues—plot holes or character inconsistencies or other things that don't work—so it's hard to apply that to other projects. The other thing with reviews is that there are some readers who will just never connect with your writing, and that's fine, but that also means their reviews are not going to be helpful. (One of my other favorite negative reviews dinged Out in the Field for being a romance novel.)
(It helps to have a sense of humor about these things. Rather than freak that there would be a 2-star review on Amazon calling out the book for being a romance novel instead of whatever the reviewer thought he was buying, I found it funny, plus I figure having a range of ratings proves the reviews were written by real people and not sock puppets.)
And I'll be honest, once a book is done, it's usually not in my head anymore. (At GRL last year, someone came up to me and said she loved "the book with the rugby players" and I said "I wrote a book about rugby players?" because it took me way longer than it should have to remember that Tristan and his love interest in Save the Date had played rugby together in college.) It's kind of like, once I'm done, I just shove it out to make space in my brain for other books. It's why, until The Silence of the Stars, writing sequels was so impossible for me. So reliving the parts of the book that are less successful through a reviewer is not that useful an exercise to me. I mostly just want to gauge general reader reaction out of curiosity.
Anyway. What prompted me to say all this was a blog post I read about how many new authors are flooding the market, and it occurs to me that some things that are old hat to me because I've been writing since forever and have worked in publishing for almost twelve years are maybe not obvious to people just getting started. I work as an editor, as well, so I believe strongly that all authors should be open to changing their books to improve them. (When my first book went through edits, it was BRUTAL. I may have cried, a little. But the book was vastly improved by that process and I learned a lot. I'd like to hope most writers have that experience.)
The romance market is weird and it's hard to figure out what's driving it. If books start to feel same-y if you read too many in a row, is that because that's what sells or is that what people are writing? If readers have general complaints about the genre, is that because they've fallen into a particular niche or are there just limitations on what's out there?
I'll admit, often when there's a general complaint about the genre, I'm a little baffled. I get reader fatigue sometimes, but I've also become super selective about what I'll buy, only trying new authors if a lot of reviewers whose opinions I generally agree with recommend the book.
I also struggle with myself, too, because on the one hand, I like straightforward contemporary romance and there are some bits in The Silence of the Stars that are sappy, but I wouldn't change them because I like the book that way. But I also want to do something experimental, something no one has tried before. I'm never going to be the one writing the super dark books—that's not my style, it's not what I'm into—but I've got a novel out with my betas right now in which I played around with narrative structure and put in a couple of plot points that I think will be unpopular. My hope is that my writing will overcome that; this is the story as I wanted to tell it. The historical I'm currently shopping around is probably my darkest book yet—and it's not that dark, really; there's some violence, but it's mild—plus it's a historical, and that's really different for me. I can't keep writing the same book, and sometimes I think, "Fuck it, I'll just write the book I want to write" and that's actually usually when I come up with my best stuff.
I think there's merit in trying something new. There's merit in learning new things. I still buy craft books and attend workshops. I'm teaching such a workshop tomorrow, actually. (It's on how to develop setting.) I read critically and pick books apart, analyzing what works for me and what doesn't. I read reviews of other books both to get recommendations and because I'm interested to know what reviewers respond to. I want every one of my books to be better than the last, and I think I've become a much better writer in the four years I've been published. There will ALWAYS be room for improvement, no matter how gifted you are or how many books you've sold.
Anyway. I'm mostly writing all this because I've read a lot of books recently that read a little paint-by-numbers to me. One of my favorite things in romance is when someone takes an old trope and totally twists it. I love books that take old ideas or standard plots and do something different and interesting with them. That's sort of the beauty of the genre—you know how the book is going to end (at least as far as the main couple getting together) but the journey is what makes the story interesting. So take that journey and do something different with it. Taking Chances is my mantra for this year.
Cross posted from the blog
:
This post is going to be all over the place, so bear with me, but updates!
• If you follow me on social media, you probably saw that my laptop finally bit the big one last week. I helped it along by spilling water on it, but it's been on its way out for a while. It's more than six years old. It was running super slow. I've been saving in anticipation of buying a new one this year. This just happened so suddenly that I was surprised and spent a whole day freaking out because I make my livelihood by typing on that stupid thing and… yeah. Not having a computer is a bad thing for a writer.
So that was stressful, and I haven't replaced it yet for a few reasons, but things are okay. My entire hard drive was backed up on my external drive, so I haven't lost anything (phew!) and I've got my tablet and a temporary loaner laptop to use until I can purchase a new one. This is going to slow me down a little, but I have so much going on in March I don't have a lot of time for writing anyway.
• Barb put up a post Friday at Live Your Life, Buy the Book for her birthday in which she picked a sweet sixteen set of Loose Id books to celebrate. These same books are now on sale. They include Across the East River Bridge by yours truly as well as some of my old favorites including Duty and Devotion, Nowhere Ranch, and Long Tall Drink. She asked the authors of books she picked to write up a little something, so I talked about the ill-fated romance I found myself in when I was at a camp for overachievers at the University of Michigan when I was sixteen. I felt like that tied in nicely with the rival-academics theme of AtERB.
• I've got the final cover and blurb for The Silence of the Stars, so I'll reveal that… soon. I'm not certain of the pub date, but I think May sometime. That's the sequel to The Stars that Tremble, though it works pretty well as a standalone. This is Sandy's story, and I put him through the ringer emotionally, but it's actually not super angsty. More on that soon.
• Although if you plan to come to Liberty States in New Jersey next weekend, I'll totally show you the cover. It's gorgeous and I <3 it. (The big book signing is open to the public 4:30–6pm, so drop by if you're in the area. A number of my favorite people will be signing books as well, including Tere Michaels, Damon Suede, and K.A. Mitchell.) Convention registration just ended, but the signing is open to everyone.
• I spent most of January and February reading books assigned to me because of contests or book club or research, so I finally got to read a book just for the hell of it this weekend, and it was glorious. (I find that, even if I'm enjoying a book, if I HAVE to read it, it feels like homework.)
I will say: reading books critically as a contest judge is tricky. It's kind of like reviewing, I imagine, though for me, being an anonymous judge means I can be totally candid about how I feel about a book. Most of the contest books ended up being kind of middle-of-the-road for me: not terrible, but not that great either. There was competent writing and all the normal romance signposts, though some felt a little parboiled to me. (By which I mean: underdeveloped, not quite there yet.) It made me a little sad, actually; I guess if you read enough books that don't really work for you in a row, you start to despair.
I think there's value in reading critically in that you can analyze what it is that doesn't work and apply those lessons to your own writing, so that's my take away. But, for example, in a romance novel, I want that first "I love you" to be earned. I've read a lot of books lately where it feels like the characters are declaring their love for each other not because they actually are in love but just because we're 3/4 of the way through the novel.
I want to write more on this topic—and on sex scenes, because I saw a few doozies in the contest books and in something I read over the weekend. (Short version: I'm noticing a lot of things that read to me as more "this is here because the author thinks it's required" than "this is something the characters would organically do.") I mean, romance is fantasy, no question, and there are things I can excuse in a story I'm enjoying, but a lot of what I've read lately doesn't really match up with my own experience. (I have a lot to say on this topic, apparently, because I just wrote several paragraphs and then deleted them for fear I was getting too TMI, but suffice it to say we all bring our own experience to bear when we're reading, and I have read some things lately that made me scratch my head and think, "Do actual humans behave in this way?" so.)
Anyway, this is a long enough post. Happy Monday!
Cross posted from the blog
:
Can we talk about this Huffington Post essay for a moment?
tl;dr: The author is basically saying that, because JK Rowling already had her time in the sun and that every time she publishes something new, it creates so much buzz that it crowds out everybody else, she should stop writing. For example, of The Casual Vacancy, this essayist writes:
It wasn't just that the hype was drearily excessive, or that (by all accounts) the novel was no masterpiece and yet sold by the hundredweight, it was the way it crowded out everything else, however good, however worthwhile. That book sucked the oxygen from the entire publishing and reading atmosphere. And I chose that analogy quite deliberately, because I think that sort of monopoly can make it next to impossible for anything else to survive, let alone thrive. Publishing a book is hard enough at the best of times, especially in an industry already far too fixated with Big Names and Sure Things, but what can an ordinary author do, up against such a Golgomath?
The solution to this "problem" is to tell Rowling to quit.
This assumes that there are a finite number of slots available for all published books. It assumes that JK Rowling and the rest of us are competing for the same readers. It assumes that one runaway bestseller will somehow hinder every other writer from getting her voice out there.
There are a few things to pick apart here. I mean, we can dispense with the argument about quality pretty quickly, right? The value of a book is subjective. This essayist admits to never having read Rowling. (I'm somehow still surprised to find people for whom this is true. I don't read much YA or fantasy and yet have read every Harry Potter book at least twice. You can make arguments about them being derivative or childish or whatever, but I was highly entertained by every one. I haven't read Rowling's adult novels, so I can't speak to those.) Still, it's an argument that gets trotted out a lot: It's inconceivable that _____ is so popular because s/he is terrible! And yet, there are some people that love the punching bag books, and there's always at least one in the popular mindset. Before Fifty Shades there was Twilight or The DaVinci Code or [book you made fun of at parties with your well-read friends]. Something in each of those books resonated with readers, so even if the book didn't work for you, it did work for thousands of others. And, let's face it, quality and popularity are not synonyms.
But to the greater point that the popular writers should take a seat so that everyone else can get a chance: Nope. That's a problematic argument. You can't tell a creative person to stop, because they won't, because creating is what they do, a part of who they are. But also, there is no reason why the continued existence of Rowling (or Stephen King or James Patterson or E.L. James or whoever) prevents anyone else from becoming a bestselling author.
But Kate, I hear you arguing, this is obvious. I need Rowling to keep writing so I can have enough fodder to complete my Hermione/Ginny femslash, and also, duh, obviously no one REALLY thinks Rowling stepping aside will suddenly create a gaping hole to fit all our books in.
Well, but, the thing is, I have seen writers treating the market as if there are only a finite number of books that can be sold. Just this morning, I fell into the rabbit hole of reading Goodreads reviews on which this one author was harassing reviewers who gave her books bad reviews. Authors still buy reviews to get the coveted 5 stars so they sell more. They also bash other authors, publicly put books down, treat the industry like a contest.
It's not. Publishing is not a race. Especially if you write romance, there are PLENTY of readers. I believe that any of us has the potential to be the Next Big Thing.
One of my friends said on Twitter last night that this is a classic example of scarcity mindset. That's the belief that there's not enough of anything to go around. In this particular instance, the author of the piece on Rowling is assuming that success is somehow quantifiable and that there is not enough of it to go around. That there's a zero-sum game such that if Rowling has all the popularity, there's nothing left for anyone else.
That's not true. Personally, I think there's benefit in taking on an abundance mindset. (I like that post a lot. It's a little new-age-y, but the gist is to give away instead of hoard, to not assume things are finite.)
For example, deep in my soul, I want gay romance to be successful. It doesn't matter if it's me making the Times bestseller list or accepting a RITA or someone else, I love this niche of romance and this community and there's room for us to share in its successes. One of the things I love about the romance community generally is the willingness to share and talk about books we love.
This is part of why I personally don't write negative book reviews. I mean, I have a degree in English lit and have worked as an editor for twelve years; BELIEVE ME, if your book has flaws, I can see them. Sometimes I can overlook them if I'm finding a book entertaining. Sometimes I can't. I feel like such a Pollyanna on Goodreads sometimes, squawking about how much I love things. Books I don't love don't get rated, and I tend not to talk about books when I don't like them, and part of that is selfish and face-saving, but part of that is I just don't want to tear other authors down. (That's me, though; your mileage may vary. I certainly don't begrudge other authors adopting other policies in this regard, and you can say of my books whatever the hell you want. I actually think negative reviews are good because they show potential readers that plenty of real people read and reacted to the book. I'm personally leery of books that get all 5-star reviews.)
Over the weekend, I was playing around with this new Ken Burns app on my iPad and watched a segment from his documentary on the Shakers in which Burns talks about how the Shakers made a number of technological innovations and then shared them with anyone who wanted them. It led to a lot of other Americans taking Shaker technology and expanding and developing it, spurring some even greater inventions. Burns asked rhetorically if we could imagine current technological innovations being shared in the same way and how that might affect technological development. It's an interesting thing to think about. I mean, it's why open-source software exists, for one, but so much technology is hoarded and proprietary. If more people were allowed to play with and innovate these new inventions, would that change how fast new gadgets are developed?
Similarly, I think it's important for writers to pay it forward. I teach workshops. I talk up books I loved. I want to embrace abundance because book sales aren't finite and there is room for all of us. Sure, you have to figure out how to get heard above the noise—and there is a LOT of noise these days—but one author's success does not translate to another author's failure.
Cross posted from the blog
:
It's been a weird week in which a lot of things have happened, and I got very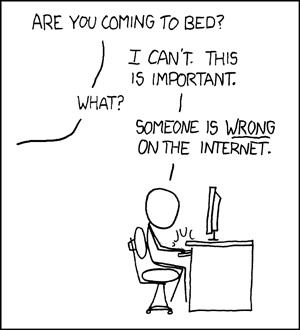 but somehow restrained myself when it came to actually speaking up. It's the problem of being an author and being conscious of the fact that people are watching what you do. To be clear, I don't feel stifled by potential readers, it's more thinking, "Does acting this way or saying these things really live up to the image I want to portray?" and usually when I want to rant about something, the answer to that is, "No."
But here are some things I've been thinking about, in no particular order:
• I should know better than to read most "journalism" on the romance industry. So many of the articles take a "hey, look at what these silly women are doing" approach that I find kind of offensive. But the kicker is that I read two articles recently that made the argument that romance writers don't aspire to be literary or romance writers aren't concerned with the same things literary fiction writers are. I got into kind of a shouty argument with a friend, who countered that this was a good thing because literary fiction is soulless and concerned with writing the perfect sentence over plot and character. I disagreed because, as with romance, you can't characterize a whole genre with such broad strokes. Sure, some literary fiction novels are soulless, and some romance novels are crap. But that doesn't mean the whole genre is that way. More to the point, the connotations of the statement that romance writers don't aspire to the same things literary writers do is that romance writers don't aspire to be good writers. Which I take issue with. I mean, I don't know about you, but I spend a lot of time studying and working on my craft, with the goal of each book being better than the last, and to me, a great book is one that gets everything right: beautiful writing, a compelling story, interesting characters, emotional resonance, all of those things. The ONLY differences between a romance novel and a literary novel, as far as I'm concerned, are romance's emphasis on the central story being a romantic one and the happy ending requirement.
Basically, the distinction between literary and genre fiction is one of marketing and expectations, not writing quality. For example, if I walk over to the fantasy section of a book store, I'm looking for a certain kind of book. I have expectations for what it will include. Literary fiction is much more broad. But otherwise? Sure, maybe there are some genre writers who are painting by numbers, but a lot of romance writers I have met over the years are genuinely invested in creating a great book.
• Although, perhaps disproving my own point, I read a historical romance novella earlier this week that was just rampant with factual errors. (Not m/m for what it's worth. And no, I won't tell you which book it was.) Now, I will grant you, I'm a dweeb and a history buff, so I'm going to spot errors that other readers may not. In this case, there were two that stood out to me: one was a bit about baseball that was so wrong I actually dropped the book in exasperation—and that was something a thirty second Google search could have rectified—and, without giving away the book, the other error is about something so fundamental that if you fixed the novel to correct it, the whole plot would fall apart. That is, the premise of the novel is based on something historically false, and this is not an alternate history. This is apparently a hard limit for me; the writing was competent and I liked the characters okay, but I just could not get past those historical errors.
• I did actually weigh in on an argument on an author loop, which I basically never do, but apparently I hit some kind of tongue-holding critical mass. I mean, I was nice and respectful. I don't even necessarily think we all have to get along within the community, and some debate and disagreement is good, but it's a combination of "am I putting myself in the best light?" and "is everybody going to hate me if I say this?" that pass through my mind whenever I type something to put on the Internet, even somewhere semi-private like an author loop.
• I'm reading a Beverly Jenkins novel right now in which the heroine is a whore—this is what she calls herself in the novel, and indeed, she is a woman who has sex for money and the hero is one of her clients—and I'm finding it so refreshing that this heroine totally owns her past and her choices and feels no shame about it! I'm really loving that aspect of the book. That is, the heroine has had a hard life and totally recognizes why a happily ever after with the hero from a prominent family is probably not possible (except it totally is because this is a romance novel) but there's no effort on Jenkins's part to make the heroine pure anyway—and I recently read a book with a virgin concubine heroine that was published in 2009, so this is still a thing we're doing in romance—or regretful of her past life except as it pertains to her current situation and the novel's central conflict.
I wonder sometimes if some of the reason LGBT romance sometimes feels like it has fewer limits is that the fact that there are two dudes or two ladies or whatever at the center of the book is already a barrier to entry for some readers, and if you're already redefining a genre, you might as well go for it. Is it the same for multicultural romance? Does the fact that this Jenkins book has two people of color embracing on the cover keep some readers away? (I'm not so naive as to think that it doesn't, which is a shame because this book is so fantastically trope-y and I'm finding it very entertaining.) If so, does that give Jenkins some room to write a different kind of heroine than what we're used to seeing? I honestly don't know; I'm just wondering if that's what's happening here, because it's been a while since I read even a contemporary romance with a heroine who owns her sexuality in this way. (So far. I'm about halfway through the book.)
I'll leave it there. It's raining in New York right now, which is washing away the snow finally. I have high hopes that I will soon be able to go outside without wearing clunky boots.
Cross posted from the blog
:
Lots of big news this week if you're a sports fan. There are Olympics going on. NFL-bound player Michael Sam came out of the closet. My beloved Yankee shortstop Derek Jeter announced he's retiring at the end of the upcoming season. And today is not just Valentine's Day but also the day that pitchers and catchers report for baseball Spring Training. So I thought, what better way to celebrate than a short visit with Matt and Iggy? So here you are! Enjoy!
Matt frowned at Iggy's giant suitcase, half packed and laying open on the bed. Iggy hadn't even left the city yet, but the apartment already felt empty. With a heavy sigh, he left the room and walked into the kitchen, where he put a half-hearted effort into making a sandwich.
He was half eating, half reading the sports news on his phone when a snow-covered Iggy blew through the door.
"Don't go outside," Iggy said.
Cross posted from the blog
:
I'm going to be sitting on a panel about erotic romance at the Jefferson Market Library this Wednesday 2/12. My co-panelists are a great group of smart women, so I think it'll be a great event. If you're in the NYC area, stop by!
More info, including a list of panelists, can be found here.
Cross posted from the blog
:
Because I am a total sucker for a clearance sale, I bought these beautiful shoes that are too nice and summery for the gray, slushy New York City winter we're currently having. Because I am a writer, part of me thought, "That's a really great metaphor for an essay I've been meaning to write." Basically, a lot of us pay for opportunity—pink Fluevog pumps that can't be worn until spring, say, or a membership in a professional organization—without fully taking advantage.
As you may be aware, I'm currently serving as president of Rainbow Romance Writers, the LGBT romance special interest chapter of Romance Writers of America. It's an online chapter, as opposed to a local chapter (for example, I am also a member of RWANYC). All exist to serve the interests of career-focused romance writers.
I get asked frequently whether joining RWA is worth it. "What's in it for me?" writers want to know.
Here's my answer: Maybe nothing. Or maybe a great deal. It depends on what you put into it.
My first year in RWA, I paid my dues and then… did nothing. I'm not sure I really understood RWA's mission or how it operates, so I mostly waited, figuring the value would make itself apparent. It didn't. I joined my local chapter, which has an active email loop, but I mostly ignored that. I didn't attend any events. When it came time to renew my membership, I almost didn't, because I didn't understand what I was supposed to be getting out of the organization.
But then I renewed and also joined Rainbow Romance Writers. I volunteered for RRW projects and started attending local RWANYC meetings. New York City actually has a wonderful, thriving community of romance writers and fans, and I had no idea until I started going to events.
Anyone who has ever been to a convention knows that feeling of walking into a room and feeling like you've found your people. That's been my experience at RWA events, at conventions, at readings and signings. I'm kicking myself for waiting so long to get involved in person. Because it's not just meeting your fellow tribe members; every chapter of RWA has writers at all stages of their career, from "pre-published," in the parlance of RWANYC, to bestselling. Everyone's experience has been unique. I find it tremendously valuable just to talk to other writers, to learn from their experiences or to spitball ideas or even just to talk about books we love or tropes we could do without. I actually spent a lot of time this past weekend having meals with other writers and talking about the biz. It's inspiring.
My local chapter, probably primarily because of its location, also attracts a lot of industry people to our meetings. We get editors and agents and librarians and lawyers and publicists and bloggers and so on as guest speakers. That's been educational. I've gotten to meet and have great one-on-one conversations with some of my favorite writers. Hell, meeting Nora Roberts at last year's RWA conference and gawking at her shoes was basically worth the price of admission if you have been reading her books as long as I have.
One of my first acts upon joining Rainbow Romance writers was to volunteer for a chapter project, which also turned into other opportunities. The most notable thing I did was co-write a survey of romance readers and then later analyze all the data. I learned a ton. That work apparently convinced the powers that be that I was board material, so I was persuaded to run and now I'm sitting here wearing the proverbial tiara as president.
A lot of what RRW does is probably not obvious to its membership, but I can point to some tangible things that happened before my time on the board (helping to get reviews of LGBT romance in RT magazine being the big one) or things I had a direct hand in (like the Writers Workshop at GayRomLit).
My project for my presidency is bookstore and library outreach—I want to see more LGBT romance in those places, to raise the profile of LGBT romance writers and get books into the hand of more readers. That's maybe a lofty goal, but I believe it's doable. I've already talked to bookstores and I'm doing a panel at a library next month and I'm hard at work as president. Library outreach in particular has been a pet project of mine for a while, particularly since I learned via the aforementioned survey that many, many readers discover new books at the library. That's a huge opportunity our community might be missing out on.
I wouldn't be doing any of this if I hadn't gotten involved. I wouldn't be having these experiences, and I do believe my life and career have been greatly enriched by my involvement with RWA. My dues money would be like throwing a fistful of cash into thin air if I hadn't started going to meetings and volunteering.
RWA, RRW, local RWA chapters, all of these things can do a lot for you, but only if you get in there and take advantage of what's being offered.
Cross posted from the blog
:
The theme of this week has been controlled chaos.
I cannot explain to you why this is true, but I seem to be the most productive and do my best work when I've got a million other things going on. I think part of it is that I'm so revved up from being busy that when I sit down to write, I channel all that energy into my stories. This week has been like that. I have so many balls in the air that I'm worried I'll lose a few, but my writing stuff is going really well!
A lot of the stuff I'm working on now is stuff I can't talk about yet or it's minutiae you don't care about, so it's hard to really convey just how insane this week has been, but I can say that literally every day since last Thursday, I have received an email along the lines of "Remember that thing we talked about months ago? I need you to do something about it RIGHT NOW." I got THREE of these on Tuesday. For the most part, it's good: planning out what I'm doing at conferences this year, Rainbow Romance Writers business (I'm the president now, god help us all), cover specs for my next book, etc. This chaos is all on top of my day job, so it's been… not the best week I've ever had. And yet I've somehow conquered the draft of the contemporary novel I'd been working and struggling with all last fall and am getting ready to send it out to betas. Crazy.
Or, as an example of how things are going: I must have entered a drawing for a book giveaway in December, and somehow I won—I never win, and I rarely enter giveaways, so when the blogger who ran the contest emailed me, I was genuinely shocked—and this huge box of books showed up on my doorstep earlier this week. [Aside: I live in a Brooklyn apartment. Space is not abundant.] Unpacking the box was fun because a) I remembered entering the giveaway once I saw what was inside, and b) it's an interesting mix of authors I like, authors I've wanted to try, and authors I've never heard of but whose books look interesting. So that was exciting. But there were twenty books in that box, you guys. Where on earth will I put them? (If you answered, "On the floor of your bedroom," you may be right. I tried to put them back in the box, but the cat had already claimed it as her new fort.) Then yesterday, I got my box of books for RITA judging. (The cat does not fit in this box, much to her consternation.) So that's eight more books. If you're keeping track, that is nearly thirty books that arrived at my home this week.
I love new books, but yikes.
It feels like a metaphor for how my life is lately. I have an embarrassment of riches in terms of new opportunities and exciting stuff happening, but doing all the work for it is tough. It's hard to complain about, because most of this is stuff I want and that I willingly signed on for. Just… maybe it could not happen all at the same time?
So that's about where I'm at right now and why I haven't been blogging.
So my plan for the weekend is to follow up on the eight or so things that need my immediate attention (not exaggerating) but then I've got a ticket to a knitting convention. I'm almost hoping there's crappy phone reception inside so I can just escape and pet yarn for a while. Sometimes you need to take a break. (My heart rates goes up every time the icon in the dock flashes that I have a new email. It's a problem.)
It's good. It's busy. I hope that this doesn't end up being how all of 2014 goes.
Cross posted from the blog
:
I'm actually pretty good at resolutions. I think the trick to keep them both specific and realistic and for them to be things I actually want to do. Like, resolving to take up yoga this year is probably not a great idea, because although I think yoga would be a good thing for me to do, I have disliked yoga classes I've taken in the past, so I keep dragging my heels on signing up. (I have no excuse! There's a yoga studio ON MY BLOCK, a thirty-second walk from my apartment, and the people who work there seem very nice! And yet!) But there was the time in my late twenties when I went to a classical music concert, thought, "I really miss playing the violin," and then the following January resolved to do more of that. That very month, I went out and auditioned for an orchestra and signed up for refresher lessons. In 2008, I resolved to finish a novel, which I accomplished. The year after that, I gave myself until the end of the year to actually submit something for publication; I sent In Hot Pursuit to Loose Id that summer.
Basically, I'm the sort of Type A who does what she sets out to, most of the time anyway.
Here are my resolutions for this year:
1. Spend more time acknowledging what I've accomplished instead of fretting about what I have to do.
Here's what I mean by that. At New Year's, a friend's husband asked about my writing career. "How many books have you written now?" I couldn't even remember. I was like, "Uh, I think I have nine published novels now?" This blew my friend away. He said, "That's a lot for a short amount of time." Well, I said, these are the books I've written over 5 years or so. He pointed out, "That means you've written two novels each year! That's incredible!"
It's hard not to get caught up in the rat race. Publishing is a tough industry, and I've been working in it in various capacities for twelve years. Everyone's always worried about what's next. I'm always worried.
But it's good to remember that one novel, let alone nine, is more than a lot of people will ever write, and it's no small feat. Those books represent a lot of hard work on my part. I should take the time to, as Damon Suede often says, feel that fact.
2. Make a real schedule.
My whole life is in my iPhone calendar, and I wish the engineers or software developers or whoever at Apple would leave well enough alone, because I HAAAAATE the new calendar in iOS7. So, for the first time in probably five years, I bought a paper calendar. It has pretty vintage New York City photos on it. So far I have found a place to hang it and taken it out of the plastic.
Anyway. This is kind of more a personal growth thing, but I want to not get so overwhelmed by the great many things I have on my schedule in any given week. I think breaking it down into reasonable chunks and being prepared for what's ahead is the key. Otherwise, I just look at all those little dots on the phone calendar and silently scream.
3. Be the best damned Rainbow Romance Writers president I can be.
Self explanatory, I think.
4. Finish reading all those damn books in the pile next to the bed.
I have a terrible habit with nonfiction, in that I very frequently start a book, get about halfway through it, put it down, and never pick it up again. I've got five of these on a variety of topics—namely, the American Revolution, Theodore Roosevelt, Greenwich Village, homosexuality in Victorian England, and personal finance—sitting in a pile next to my bed, and I do want to finish all of them. They are all really interesting! I will do that this year! I will!
5. Moar Reading!
I read about 70 books in 2013, if you count shorts and novellas, plus another 18 for contest judging, so I still fell short of the 100-book goal I set for myself. That's not an issue per se. But I had a few months this year where I had so many other commitments that I didn't really read purely for pleasure, which made even reading for my book club feel like a chore.
I'd like to set aside more time to just read for fun. That will certainly help with Goal #4.
This is on top of the usual "write a really good novel" and "learn something new" goals I usually set for myself.
So there's a short list of what I aspire to in 2014. Do you have any resolutions?
Cross posted from the blog
:
Happy holidays, everyone! Here are a few things happening in 2014:
I'm reading at Lady Jane's Salon on January 6th! If you can get yourself to Houston Street in NYC at 7pm, you should come! I'll be reading from The Stars that Tremble.
Last week, I signed a contract for the sequel to The Stars that Tremble. It'll be out late spring 2014. It's called The Silence of the Stars and I pretty much put Sandy through the emotional ringer. I put up an unofficial blurb on the Upcoming page.
I just booked my hotel room for Liberty States (finally) and got my roommate situation sorted out for RT, so conventions are happening.
And I'm gearing up to take on the presidency of Rainbow Romance Writers on January 1st.
In the meantime, I spent December writing a very silly holiday novella that may be out next December? I always hate to predict these things before the ink is dry on the contract, especially for something like this that wasn't in my schedule. I like this story, but it's over-the-top happy holiday fluff, basically. Sometimes you need that, though.
Warm wishes to you and yours! Here's to a stellar 2014!